By Joe Darrah
The word "hate" gets thrown around haphazardly in today's sports conversations/debates more than any other. Disagree with someone, and might call you a "hater." I'm not a "hater" because I don't think Lebron James is the single greatest basketball player ever to lace up a pair of Jordans. I'm not a "hater" because I think a certain group of former Major League Baseball players most notably connected to rampant steroid use (you know who they are) has no business receiving votes let alone gaining Hall of Fame induction.
But let me make one thing abundantly clear: I hate the New England Patriots. I hate them so much that I hate myself a little bit for typing their collective name into what was once a Microsoft Word document. I hate Tom Brady. I hate Bill Belichick. I hate the football ghosts of Ty Law and Steve Grogan. I hate Robert Kraft, I hate the Patriots fanbase and I hate the fact that the NFL let this organization off relatively easy back in 2008 because Roger Goodell feared that full exposure of certain transgressions would hamper his pigskin empire.
But don't characterize this hate as something so simple as jealousy or sour grapes. I am not a hater by nature. Nor am I in a Minnesotan state of mind, stomping my feet and sucking my thumb while waiting on my Uber application to process in the wake of that blowout NFC Championship game loss. No, this is an authentic kind of hate. This hate is a hate that is unrivaled by even the hate I had for the Dallas Cowboys during most of my childhood and high school years. It's a hate so strong that I can no longer even remotely come close to drumming up that same rage I once held for "America's Team." And I hate the Patriots for that, too. I hate that bubblegum head Pete Carroll ruined what was to be glorious end to Super Bowl 49 (I don't care for Roman numerals). I hate that Dan Quinn threw away a championship that was essentially in his and Atlanta's grasps this time last year.
Most of all, though, I hate that too many people are too emotionally worn out to continue to harbor that certain level of disdain it takes to not shoulder shrug in regard to "Spygate" and "Deflategate." If you have yet to read the comprehensive report by (gasp) ESPN a few years back, be sure to read about it all here. I hate that there's sports fans out there – not to mention actual Eagles fans – so hell bent on convincing themselves that they are in the presence of the "best evers" (I so hate the term "GOAT," please stop using it) that they dismiss the audacity of these controversies. Seriously, don't try to tell me I'm supposed to believe Brady is the best at his position in the history of the game when he's 0-2 against one of his peers in the Super Bowl and 1-3 versus that guy's brother in AFC Championship games. And don't try to tell me that a guy who has thrown footballs (regardless of the PSI) to the likes of Randy Moss, Wes Welker, Rob Gronkowski, Julian Edelman and Brandin Cooks that he's "accomplished so much with so little help." Please.
Oh, and I hate to think that there was a time when I didn't hate this franchise. But that's the truth.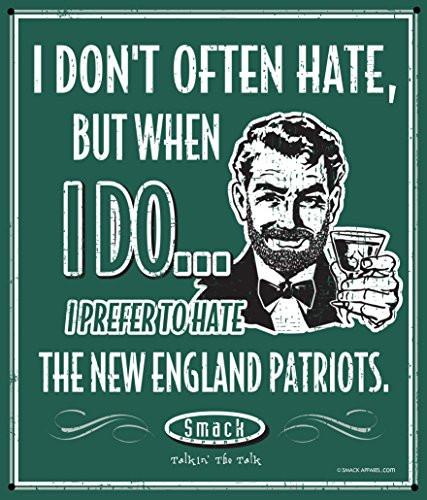 Those of us who remember the Patriots of the late 1980s and early 90s knew them as sad sacks, winners of an average of just five games per year from 1987-92. Sure they had played in a Super Bowl as recently as 1985, at that time the club's only bowl appearance, but they were embarrassed in one of the more forgettable championships in the game's history. In 1992 they trotted out four quarterbacks who threw at least 49 passes, and only one of those signal callers collected more than two touchdowns. From 1987-92 they dressed just one QB good enough to earn a completion percentage over 60 percent. From 1988-90, according to Ken Knight, author of New England Bandwagon Nation: The Real Story of the History of NFL Football Fan Support in New England, the Pats saw a 17-game consecutive home game blackout streak come and go — so New Englanders may not be able to fully articulate just how terrible this team was until the likes of Bill Parcells and Drew Bledsoe came along. Seriously, don't try to tell me that it was Brady and Belichick that pulled this once dead franchise from the grave, because it wasn't.
When Bledsoe was drafted No. 1 overall in the 1993 draft following a two-win season and started in his first pro game he truly was an anomaly in being just one of seven rookie quarterbacks to be taken at the top of the draft and play in his first possible game (and one of only two to throw at least 30 passes in said game). And though his five wins as a starter certainly weren't a harbinger of a Hall of Fame career to come, his general ascension among the league's top QBs despite the general pressure of the situation he came into (yes, even when acknowledging the benefit of studying under Parcells) made him and the team, to me at least, easy to root for.
Brady used to be an easy guy to root for, too. An underdog in his own right who wasn't drafted until the sixth round following a college career at Michigan that at one point saw him listed as seventh on the QB depth chart, Brady was already well versed in having to prove himself and earn his spot on the field well before any injury to Bledsoe ushered in the real start of his pro career. Defeating the then-dynasty St. Louis Rams at one point had a real Cinderella ring to it for Brady. Imagine that. This, of course, was pre tuck rule (which, in fairness, is hardly anything to hold against the guy), Spygate and Deflategate. This was pre his being suspended for destroying evidence on his cell phone that is widely believed to unquestionably link him to the sneaking of footballs into the bathroom at halftime to doctor them in an AFC Championship game against one of the many of his peers to have a much more impressive pedigree than his own. (And, no, for those who claim "every team does this," no they don't.) This, of course, was also pre destruction of evidence by the NFL itself for the club's unethically (and potentially illegally) recording of practices/walkthroughs as part of a ring of rule-twisting and disobeying that by all accounts is at least partly to blame for the Eagles, your Philadelphia Eagles, loss in Super Bowl 39. (And, no, for those who claim "every team used to do this," no they don't.)
This trail of filth wasn't, however, wasn't pre Belichick having established a spotty reputation for sandbagging the New York Jets in 1999 when the team was willing to give him his second chance at a head coaching gig in the league after posting an underwhelming 36-44 record with the Cleveland Browns from 1991-95 and being subsequently fired when the team moved to Baltimore, not to mention his 6-14 start in New England. And while I was personally originally able to internally separate the sliminess of Belichick from Brady in the wake of Spygate, I was unable to do so in the events that unfolded as Deflategate came to be. Belichick, Brady, Kraft et al gave the NFL the middle finger in 2015 even after they "protected" the heinous club's image in 2007 when tapes that showed a pattern of illegal recordings dating back to at least the year 2000 were destroyed — not to mention reports of folks disguised as Kraft employees invading the sidelines of live NFL games to steal signals from the opposing teams' crews, NFL stadium trash cans being sifted through, hotel fire alarms being pulled and backpacks going missing. Call it attempting to gain a competitive edge if you'd like, but you'd be wrong. What it is, is a level of insecurity in the ability to just go out and win. It's an overwhelming collection of examples of a franchise that does not respect the game and doesn't deserve anyone's respect. Go Birds.