By Todd Zolecki, mlb.com 
Phillies center fielder Ben Revere is finally off his crutches following right ankle surgery in July, but there is a chance he will not rejoin the Phillies until next season.
There is little reason to rush him back.
More interesting is what could happen to Revere next year. The Phillies acquired him from the Twins in December to play center field, but there is chance he could be elsewhere in 2014, depending on what happens this offseason.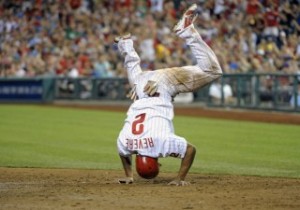 "I see Ben as an option in center field," interim manager Ryne Sandberg said. "Ben could also be used in left field. That's another option for Ben. The way that Ben performed before he got injured, he showed what he can do at the top of the order. His speed really played at the top of the order with bunts and his approach, and he really found his swing and was staying on top of the ball. For a month he made a big difference in the way the team went and that when the team got to where it did at the All-Star break. He was a big part of that."
The Phillies could use Revere in left, where his arm might be less of a liability.
"I think he came a long way, and I think his arm strength got a little better," Sandberg said. "With him, another option is to train our infielders to go out a little farther to make his throw shorter. With the third-base coaches, when the ball is coming to the relay man even if they are a little deeper, a lot of times that will stop the runner at third. Ben with his speed and a quick release should be able to stop some baserunners."